Launching New Features at CEDIA Expo 2019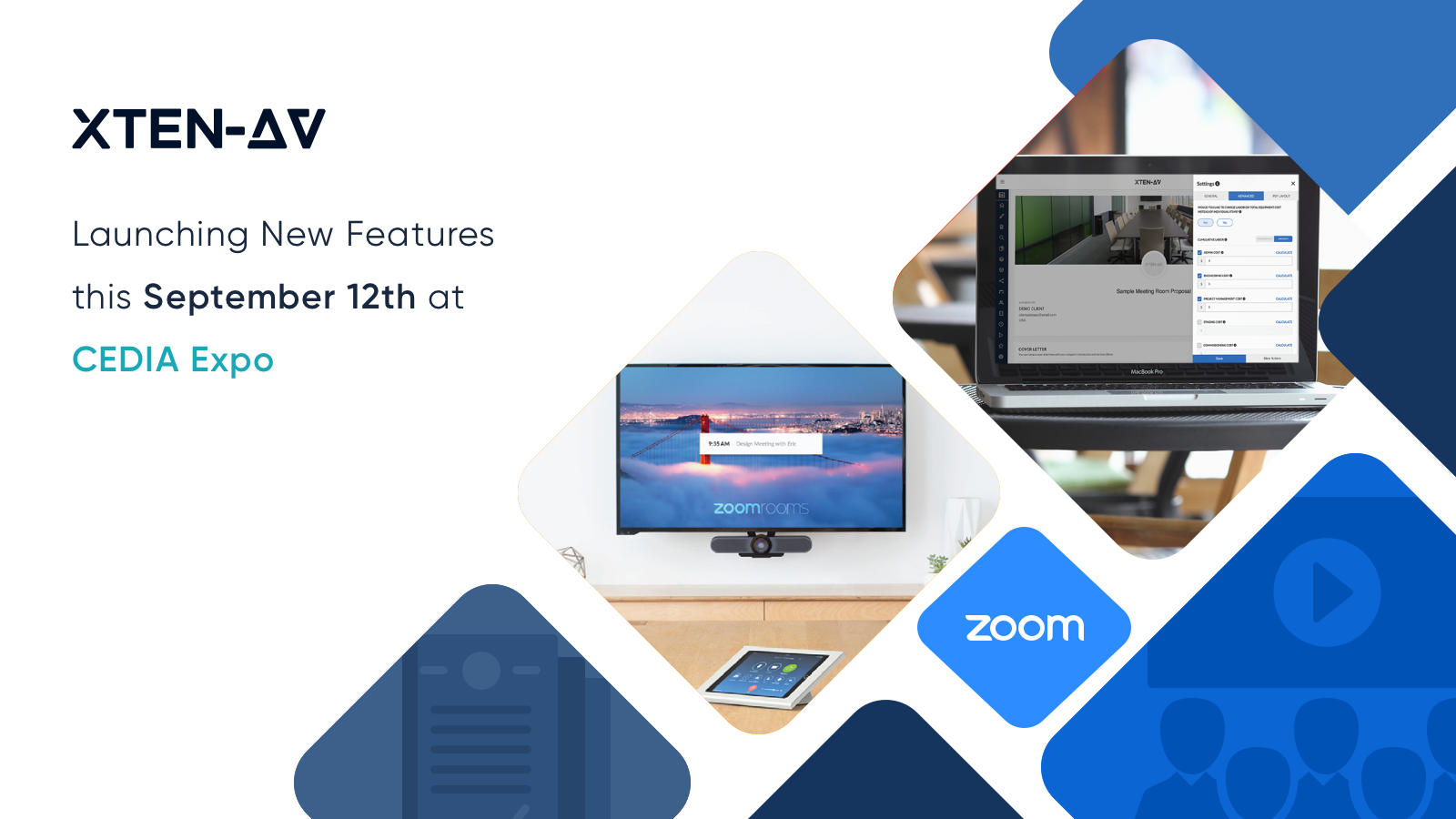 XTEN-AV to launch new enhanced Proposal features and new Zoom Rooms Design Template at CEDIA Expo 2019, September 12th. Will bring unmatched maneuverability for AV Sales teams to pitch clients
California, September 4th, 2019: XTEN-AV today has confirmed that it is already set to launch, at CEDIA Expo 2019, Booth #933A, new design templates for Zoom Rooms and a comprehensive update of the Proposal tool which is driven by feedback from users on the cloud-based platform. 
The XTEN-AV Zoom Rooms design template comes at a crucial juncture, as more and more systems integrators are incorporating Unified Communication and Collaboration (UCC) devices in their designs. This purpose-built template will enable AV designers to seamlessly create meeting rooms for Zoom's software-based conferencing. 
Secondly, the Proposal Tool will now provide even more flexibility to users with its advanced settings such as custom templates, section sorting, custom backgrounds, option to apply cumulative labor rates, upload Bill of Material in .xls format, etc.
"Since our launch at Infocomm in June, we have received tremendous feedback & inputs from our users and we have charted out a Roadmap for enhancing XTEN-AV for all users. These new features reiterate XTEN-AV's vision to make the platform a powerhouse for AV systems integrators in all phases of any project," said Vibhav Singh & Sahil Dhingra, Co-Founders, XTEN-AV.
XTEN-AV's cloud-based platform ascertains the needs of the project, recommends the best products, creates automated wiring diagrams, bill of materials and end-customer proposals within minutes, thereby increasing productivity tenfold. The built-in CRM and Analytical dashboard help integrators to be on top of their projects and accounts. XTEN-AV strives to enable AV integrators to move away from the legacy methods of project design.
XTEN-AV is on a mission to empower AV system integrators and designers to excel and Do 10X more, Increase productivity by 10X, 10X Revenue growth and most of all 10x the customer satisfaction. 
Contact Details:
XTEN-AV LLC 
33170 Alvarado Niles Rd #2231 Union City, CA 94587
www.xtenav.com