QSC becomes XTEN-AV's latest Manufacturer Part

QSC becomes XTEN-AV's latest Manufacturer Partner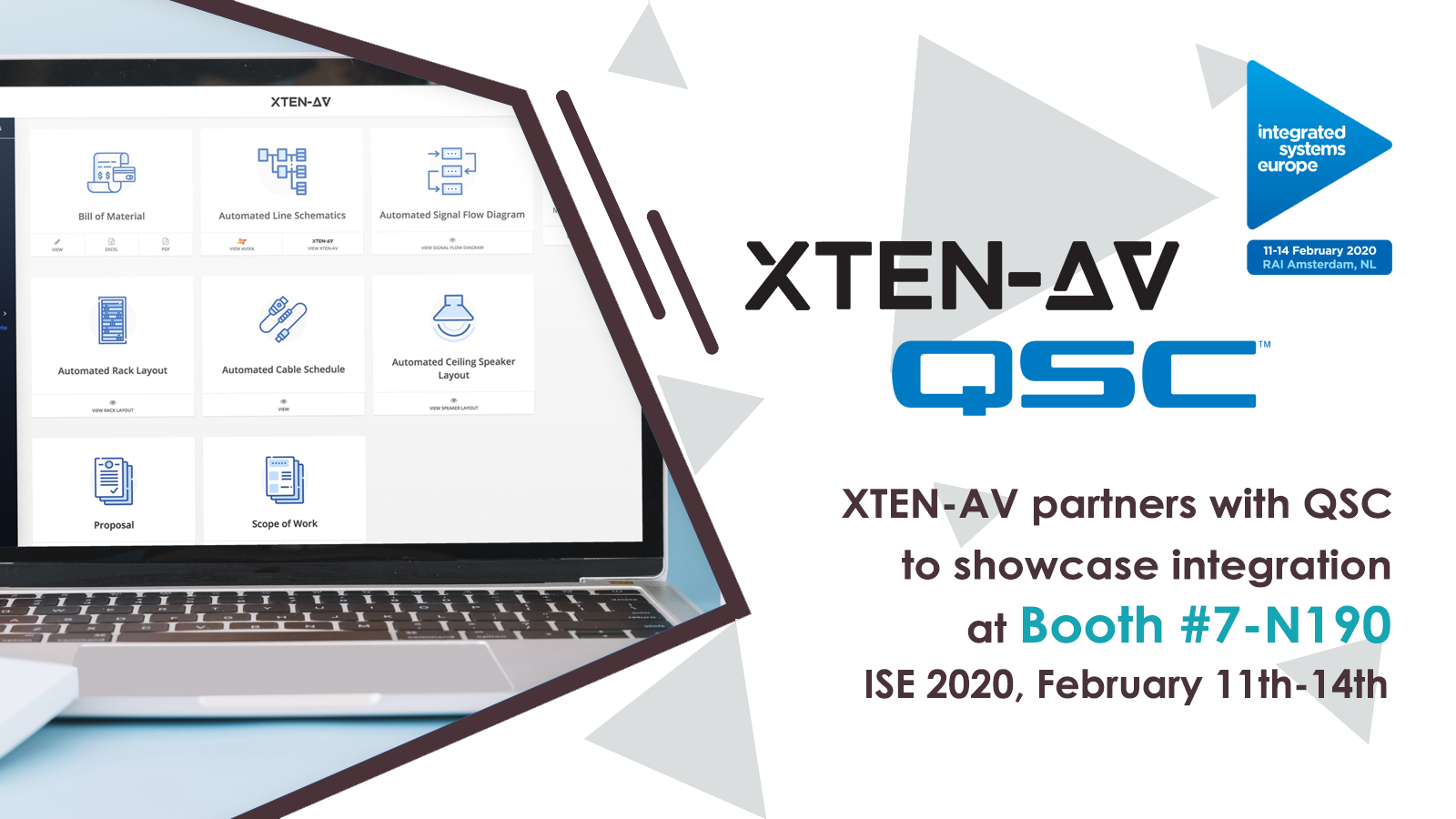 XTEN-AV partners with QSC to showcase integration at ISE 2020
California, January 27th, 2020: We are pleased to announce a manufacturer partnership with QSC to streamline the flow of accurate information about new products on the XTEN-AV platform.
As part of this association, XTEN-AV and QSC will work in tandem to provide constant updates and product information to users of the platform for creating AV designs. This seamless information flow to users about QSC products will empower them to achieve excellent client success ratios and minimize bid creation times.
QSC is a globally-recognized leader in the design, engineering, and manufacture of Q-SYS software-based audio, video & control Ecosystem as well as high-performance amplifiers, loudspeakers, and digital mixers.
Vibhav Singh & Sahil Dhingra Co-Founders of XTEN-AV said, "The provision of accurate information from a prestigious brand like QSC and its solutions will help the XTEN-AV users immensely. In sharing comprehensive product specs and data from QSC and other manufacturers, we know XTEN-AV will drive more systems designers will migrate to these particular solutions. Since XTEN-AV's launch, we have received great feedback from multiple manufactures about how the platform is bringing a higher efficiency in the industry. This further validates our stance that capable software will bring tangible changes in the AV space."
"At QSC, we are always looking for ways to help integrators streamline the design and installation process," says Frank West, Senior Director of Sales,QSC Systems. "We are thrilled to partner with like-minded providers like XTEN-AV who use the software-based methodology to simplify the integration process and ultimately drive overall adoption".
XTEN-AV will demonstrate QSC brand & product integration, on the platform, at the upcoming ISE 2020 show in Amsterdam, from Feb 11th-14th, at Booth #7-N190. To learn more about XTEN-AV, visit http://ec2-54-241-77-142.us-west-1.compute.amazonaws.com/.
About XTEN-AV
XTEN-AV's cloud-based platform ascertains the needs of the project, recommends the best products, and creates automated wiring diagrams, bill of materials and end-customer proposals within minutes, thereby increasing productivity tenfold. The built-in CRM and Analytical dashboard help integrators to be on top of their projects and accounts. XTEN-AV strives to enable AV integrators to move away from the legacy methods of project design.
Contact Details:
XTEN-AV LLC
33170 Alvarado Niles Rd #2231
Union City, CA 94587
info@ec2-54-241-77-142.us-west-1.compute.amazonaws.com
www.xtenav.com