9 Must-Have AV Equipment for a Cutting-Edge Conference Room Setup
If you're someone looking to build your conference room then this guide is exactly where you should be. A conference room is not just about having a screen/projector, a table, and some chairs, it's a lot more. It's a system that you build for efficiency and productivity so make sure you are not taking it lightly. This blog is your guide for choosing the right conference room AV equipment for yourself.
Now you might say that you don't have the technical knowledge to figure out what suits you best. But hey why worry when you have this guide? We'll walk you through every piece of audio-visual equipment that you will need in your conference room.
What Are Conference Rooms / Meeting Rooms?
Conventions and meetings can be held at conference centers or rooms. The spaces are created to provide you the freedom to freely interact with a wide audience. As a result, there will be plenty of seating, a modest stage, and microphones to ensure that you can be heard by the crowd. These can, however, also be tight areas. Another choice is to have conference room technology in your workplace with fewer chairs. 
Modern conference rooms can be flexible to fit each person's needs, but in general, these are areas with seating for gatherings like meetings, conferences, performances, etc. Read on to understand what exactly the aim of a conference room or center is?.
What Is the Aim of Such Conference Rooms AV?
If we consider the wider picture, these conference rooms primarily serve the purpose of accommodating a sizable assembly of individuals in one location. To make decisions, hold board meetings, or provide staff training. Whatever you desire might be the goal. Therefore, be certain that you are clear on the purpose of what should be done with a conference room if you have one. 
Your conference room AV design can be perfect if you have a clear objective in mind. Meaning you won't have to keep spending money on redesigning it because the conference room equipment setup will be installed from the beginning. 
Don't worry the next section is exactly about that, we've made your research easier. Here you'll learn about what conference room AV equipment is necessary.
Conference Room AV Equipment Checklist
Do you want to know what it will take to design the ideal conference room? Now let's simplify things for you so you won't be daunted by the industry jargon or tools. You must first choose the type of room you require, its function, and the number of people you wish to accommodate. 
As soon as this is done, the procedure is straightforward, so let's get to the equipment that will make your conference room a great fit for your needs.
This, in our opinion, is the conference room's first and most crucial component. A screen is undoubtedly the most noticeable item whenever you attend a conference, am I right? Similarly, to this, if you're building your conference room, this won't be an option.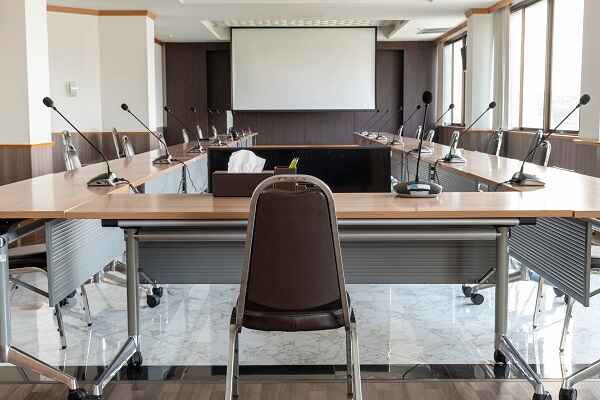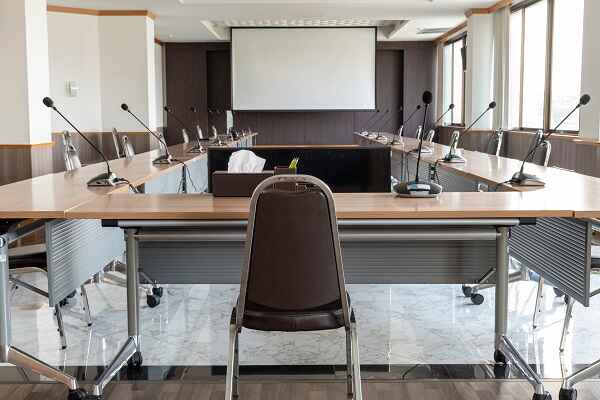 The ideal option would be to employ an AV integration firm to take care of this for you as the size of the screen will entirely depend on the space you have to give. They can direct you based on the area you have available and the type of screen you want to install. Depending on your budget, you may have a projection screen or a video wall.
Audio Or Video Conferencing
Today's conferencing technology leans more towards video conferencing, but audio conferencing still has its essence. You must strike an intelligent balance between the two, even while video conferencing is a fantastic option and is far more effective, if you don't have the proper audio equipment, having a video wall or system may be useless.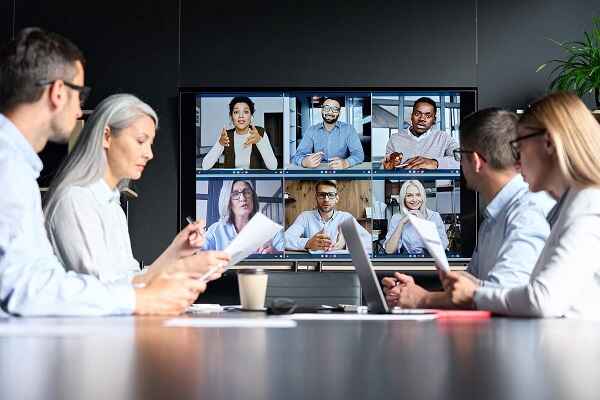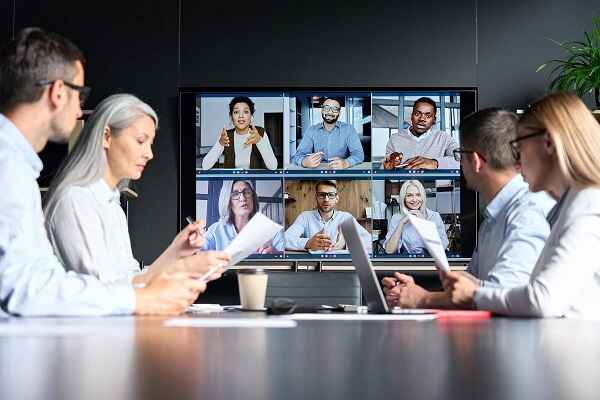 Before making any sizable investment, make sure to carefully weigh the advantages and disadvantages of each. Also take note that your time and space are huge investments in this scenario, in addition to your financial commitment. And once more, businesses should inform their AV partner that they wish to incorporate both throughout the design process to ensure compatibility.
Also Read: Are you tired of looking for the right guide for your AV system?? Then check out our AV installation guide.
A camera is an essential conference room AV equipment if you plan to implement video in your conference room. What technology to implement, though, is the more crucial issue to concentrate on. We understand that you might not be well-versed in the most recent technological advancements and industry trends, but it's always a better idea to have professional work for you so they can lead you in the direction of your preferences.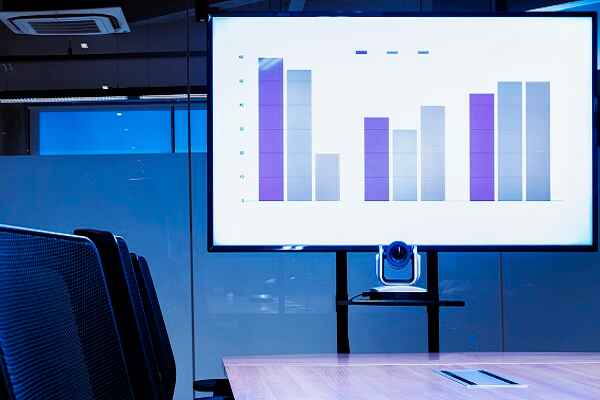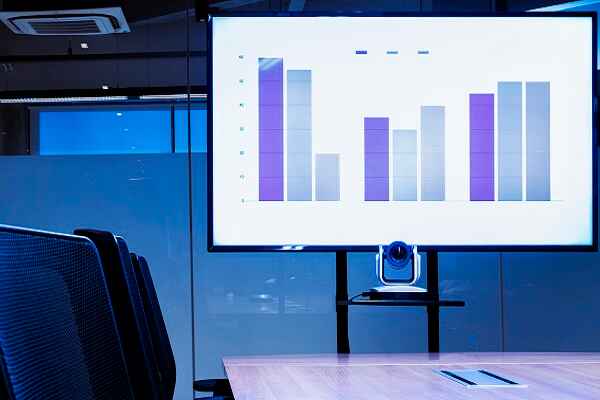 You must take into account a few extremely crucial considerations while choosing and installing a camera.  The first would be the camera's intended function; knowing this will help you pick the model that best suits your needs. The viewing angles come next; depending on how you are sitting, 180 degrees is the best choice.
A conference room's control panel is crucial because it acts as the centralized interface for managing and controlling all of the AV equipment in the space. For managing audio, video, lighting, and other room features, it is a very user-friendly platform. You can also control displays, switch from audio to video, change volume levels, and start video conferences using the control panel.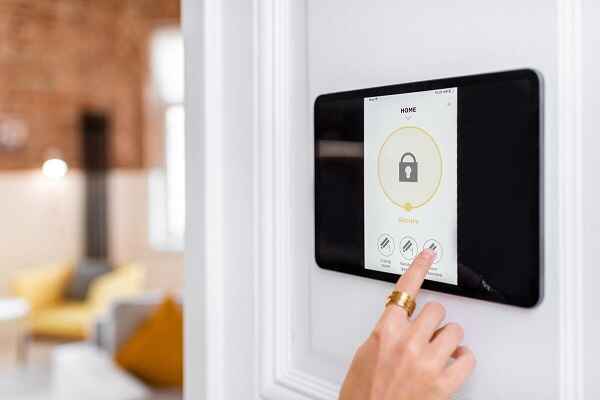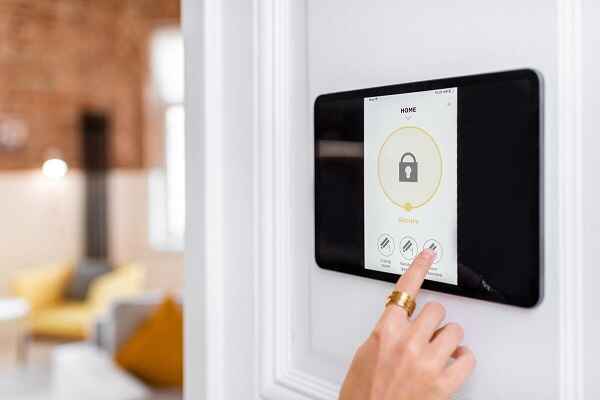 Complex AV systems may be made to run more simply by using a well-designed control panel, which also makes it simpler for non-technical users to browse and use the equipment. A well-designed control panel will increase productivity by streamlining the control process, lowering errors, and improving the overall experience.
Connectivity ensures seamless device integration, fostering fruitful conversation and the flow of information during meetings and presentations. Successful conference hosting is made easier by improved connectivity, which also makes it simpler to integrate different AV components like screens, projectors, audio systems, and video conferencing.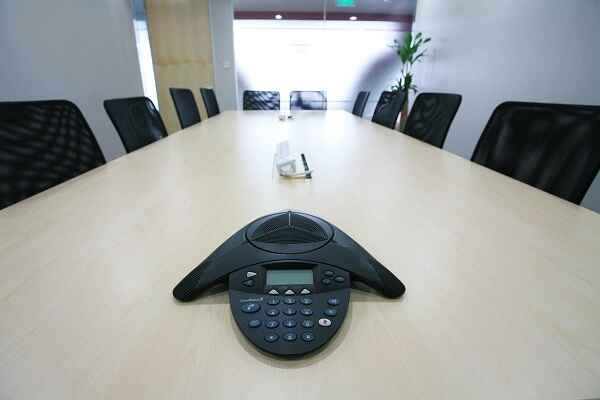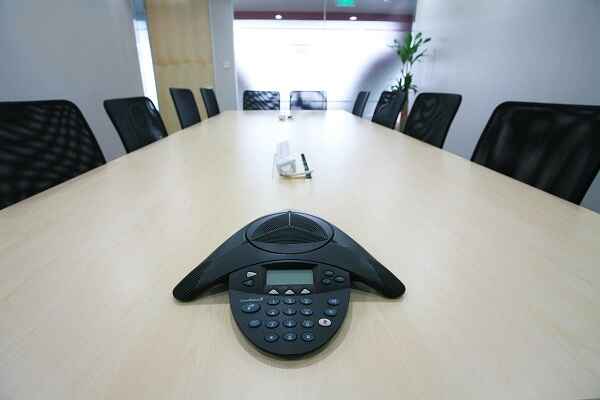 Additionally, this offers top-notch audio and video signals, allowing you to perfectly show multimedia data. With a connection, users may participate in virtual meetings remotely thanks to the inclusion of video conferencing tools. By ensuring good connectivity and enhancing the overall effectiveness and impact of meetings, you will also be able to create an immersive environment for presentations, collaboration, and remote participation.
Matrix switchers, which provide cutting-edge connection and routing capabilities, are crucial parts of conference room AV systems. They provide flexibility and adaptability for diverse meeting circumstances by streamlining the handling and dissemination of audio and video signals. Source connectivity, display adaptability, signal distribution, control and automation, scalability, and future-proofing are some of the main factors influencing their significance. 
By enabling effective source connectivity, adaptable display options, smooth signal distribution, centralized control, and scalability, matrix switchers help organizations increase productivity, simplify presentations, and foster productive teamwork. Businesses may increase productivity, expedite presentations, and promote efficient cooperation among participants by adding a matrix switcher to the conference room AV solutions.
Speaker and microphone systems are crucial pieces of conference room AV equipment. When choosing the microphone system, it is essential to consider the size, acoustics, and number of participants. Depending on the particular needs of the conference room, many microphone solutions, such as handheld, lapel, or ceiling-mounted microphones, may be acceptable.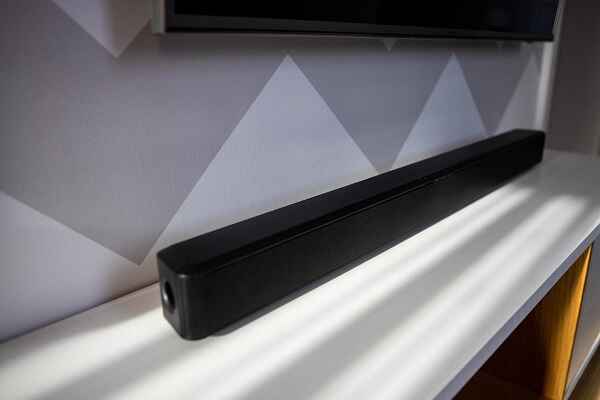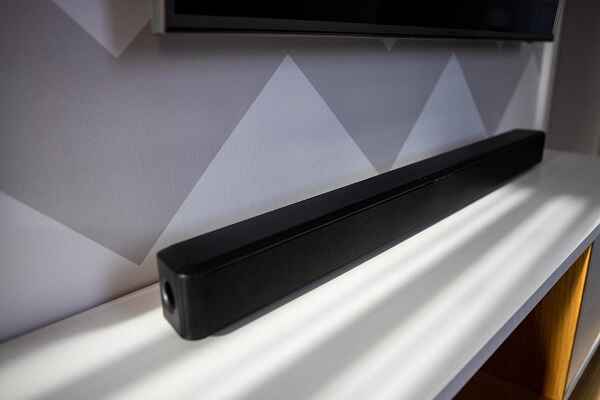 The speakers that ensure that audio is efficiently conveyed to the audience are equally crucial. To ensure uniform sound distribution, the choice of speakers should take into account the size and configuration of the space. To offer clear and balanced sound across the room, it is advised to use speakers with appropriate frequency response and dispersion characteristics. Incorporating cutting-edge audio processing technology can also improve the entire experience.
Also Read: Check out our ceiling speaker placement tutorial if you want to install a ceiling speaker in your conference room.
The use of an interactive whiteboard in conference rooms has completely changed how people connect and collaborate. It enhances presentations and promotes efficient communication by fusing interactive and digital elements with the functionality of a conventional whiteboard. Its relevance is mostly due to its benefits for remote collaboration, dynamic presentations, seamless interaction with other AV systems, note-taking and documentation, and better cooperation.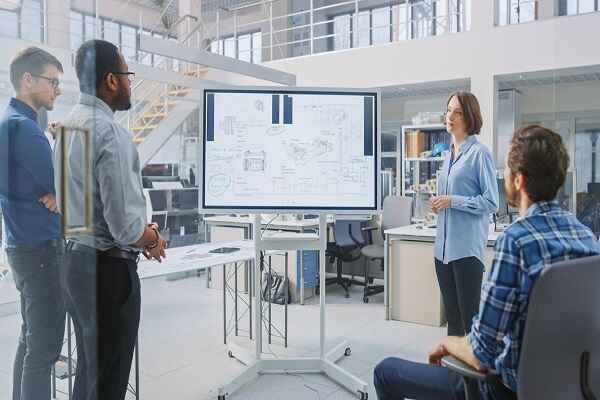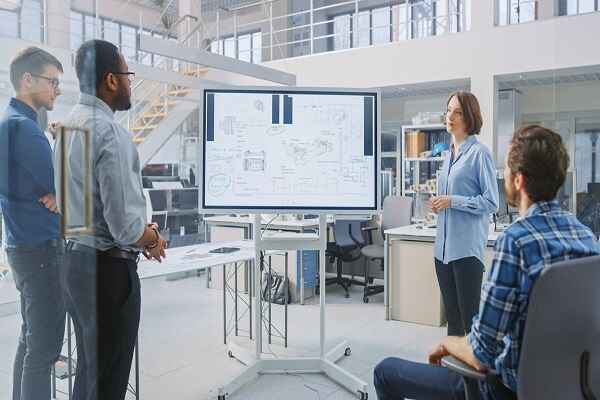 A perfect platform for interactive materials, simulations, and hands-on activities, interactive whiteboards also support interactive training and workshops. A conference room would benefit greatly from the installation of an interactive whiteboard since it fosters cooperation, improves presentations, and allows for efficient communication.
For effective conference room management, which ensures seamless organization and effective use of space, room scheduling is essential. It aids in enhancing meeting planning, time management, resource allocation, and analytics in addition to maximizing space utilization and preventing multiple reservations. You can find open time slots and reserve the space using a centralized system that indicates availability. Sessions can be planned by meeting planners, assuring well-organized sessions and fruitful conversations.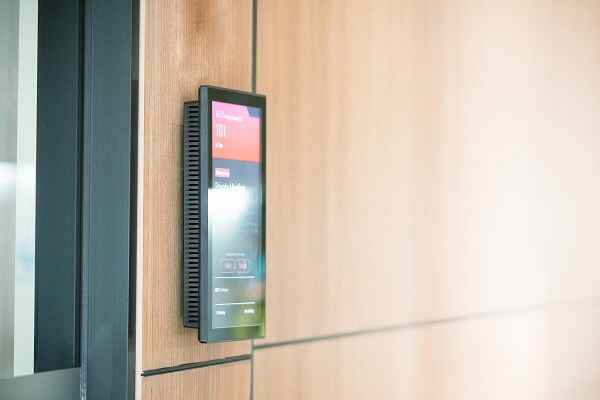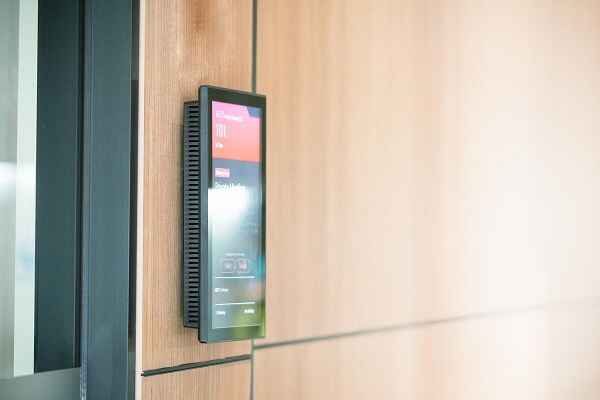 Administrators can optimize the scheduling process and spot scheduling bottlenecks or trends by gathering data on room utilization, popular time slots, and patterns with the aid of analytics and reporting services.
Equipping a conference room with cutting-edge AV equipment is crucial for creating a productive and engaging meeting environment. By incorporating these advanced technologies, businesses can enhance collaboration, streamline presentations, improve communication, and ensure a seamless and immersive conference experience for all participants. Investing in top-notch AV equipment sets the stage for successful meetings and contributes to the overall efficiency and effectiveness of the organization.
Frequently Asked Questions
Audio-visual equipment is devices that are designed to provide an audio-visual experience. This could include speakers & microphones, cameras, screens, projectors, interactive whiteboards, and much more. When all these devices/equipment combine they produce an amazing audio-visual experience that enhances productivity and efficiency.
Your checklist will depend on your preferences but here's a lis8t of basic things that are non-negotiable when it comes to designing a conference room:
Screen

Speakers & microphones

Camera 

Connectivity

Interactive whiteboard

Control Panel

Audio/video conferencing technology
This is a list of basic equipment you may alter and customize according to your needs.
In conferences and meetings, audio-visual technology is essential because it makes it simple to share images and data, which keeps everyone involved, regardless of their location, engaged. By enabling teams to swiftly and easily communicate ideas, papers, and materials, it also improves teamwork, making it a crucial part of any event.