Winning Proposals
with
Increase your close rate by 10x with X Doc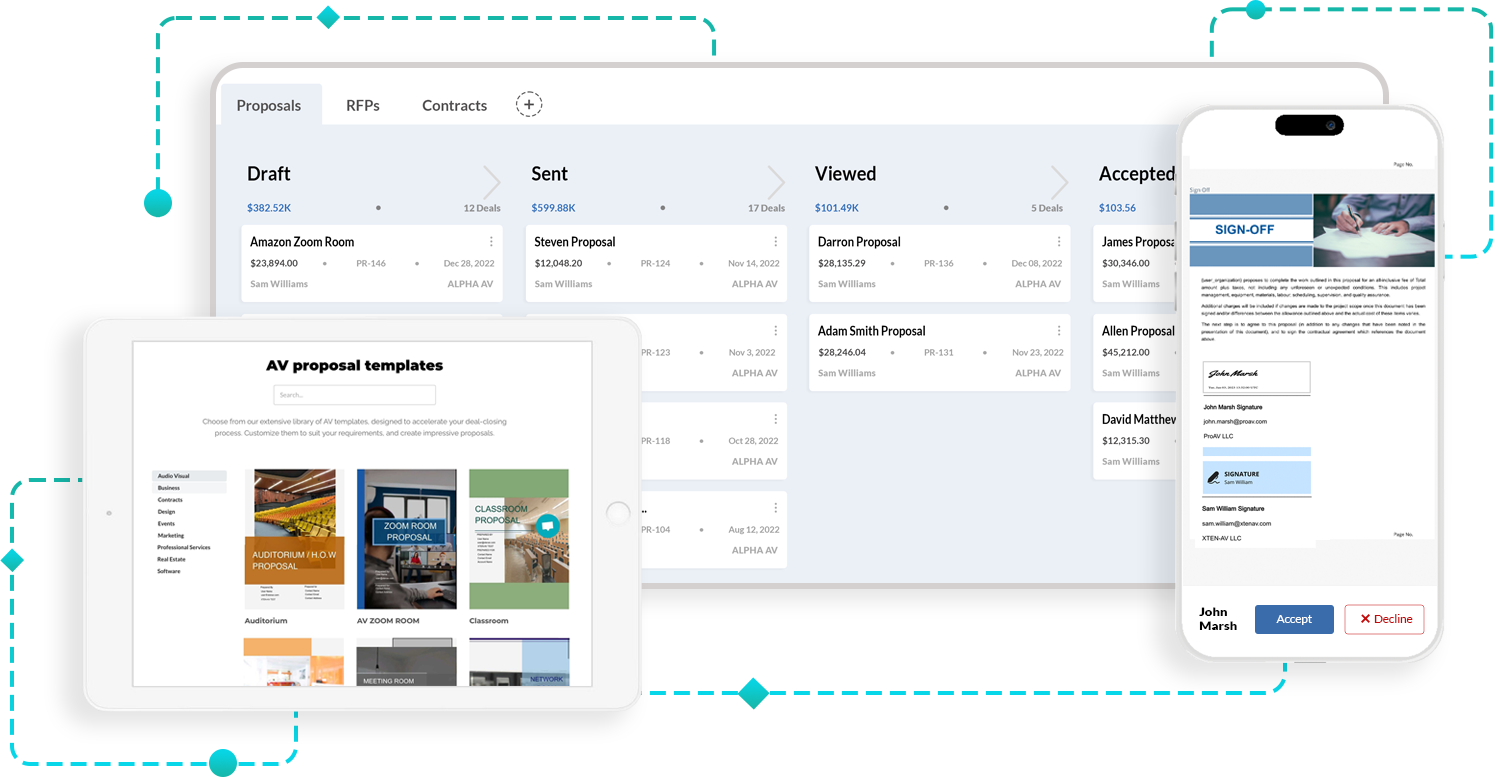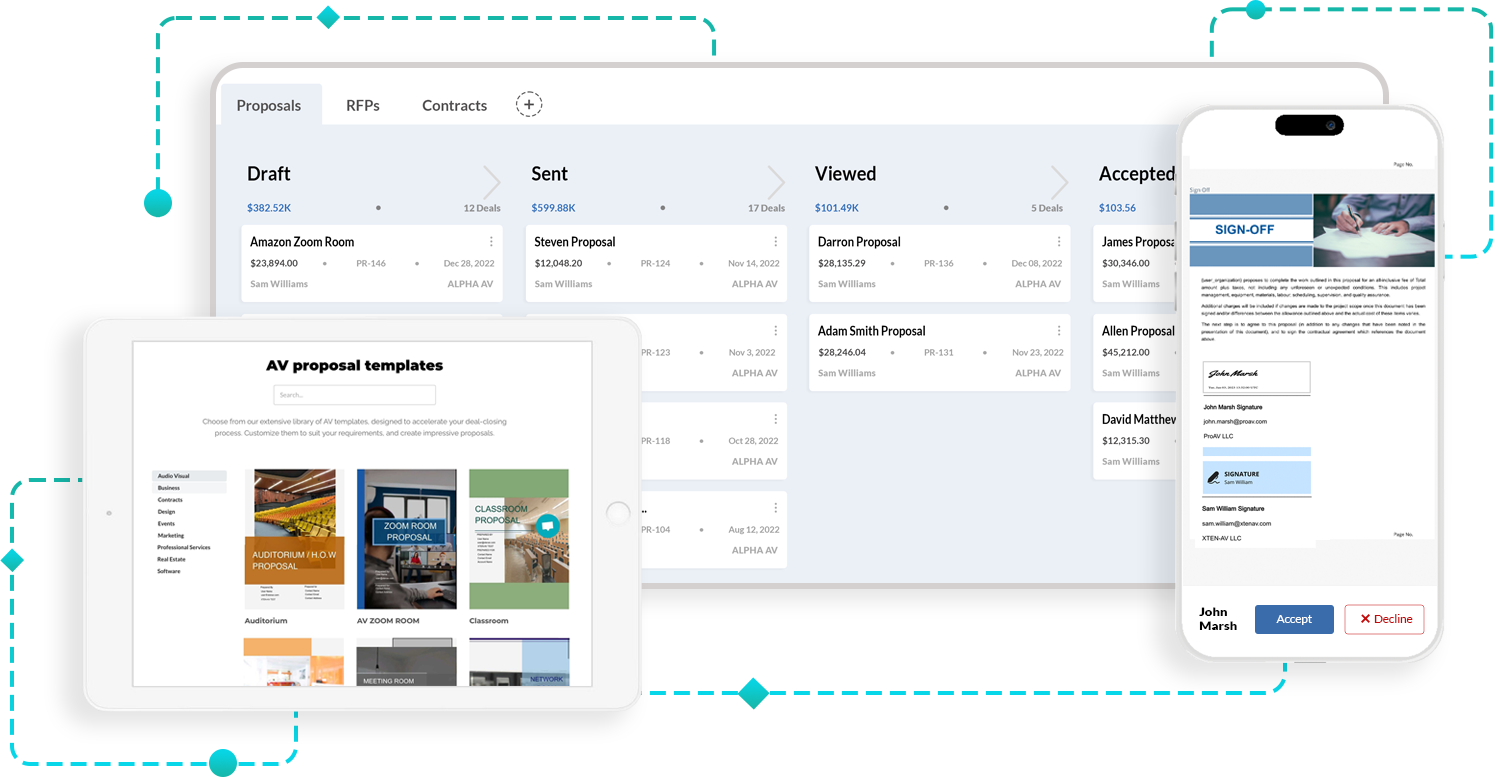 Join these market leaders in creating winning proposals with x.doc
Track
Efficient document tracking
Track your proposals at every stage of your sales cycle. Track when your client opens the document, send reminders if they haven't -all within seconds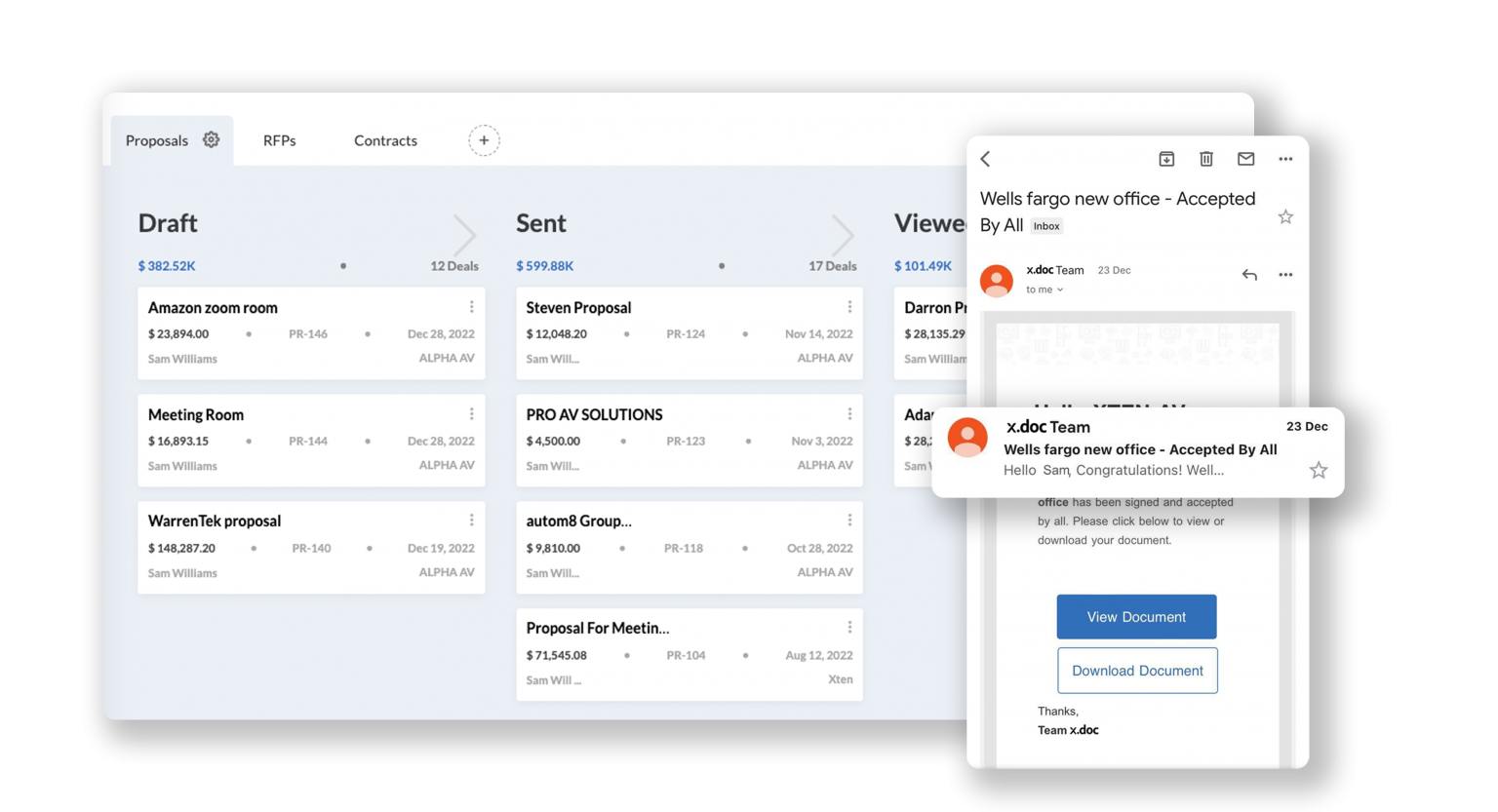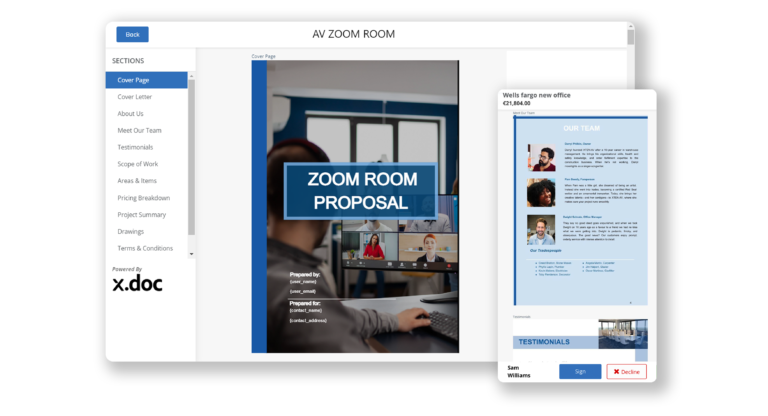 ACCESS
Access proposals on the go
Receive, accept and sign proposals on any device that you have, anywhere you are. Never let a deal pass you by!
accept
Legally-Binding Digital Signatures
Never waste time on manually signing a document again! Boost the accountability with secure & legally binding digital signatures.
PRESENT
Industry best editing & styling features
Create engaging proposals with world-class document editing & styling features. Create eye-catching, personalized proposals for your clients, within minutes!
Accurate
Multiple methods of cost & Labor calculations
Fretting over calculations? Let the experts take over your calculations and impress your clients with accurate, error-free pitches.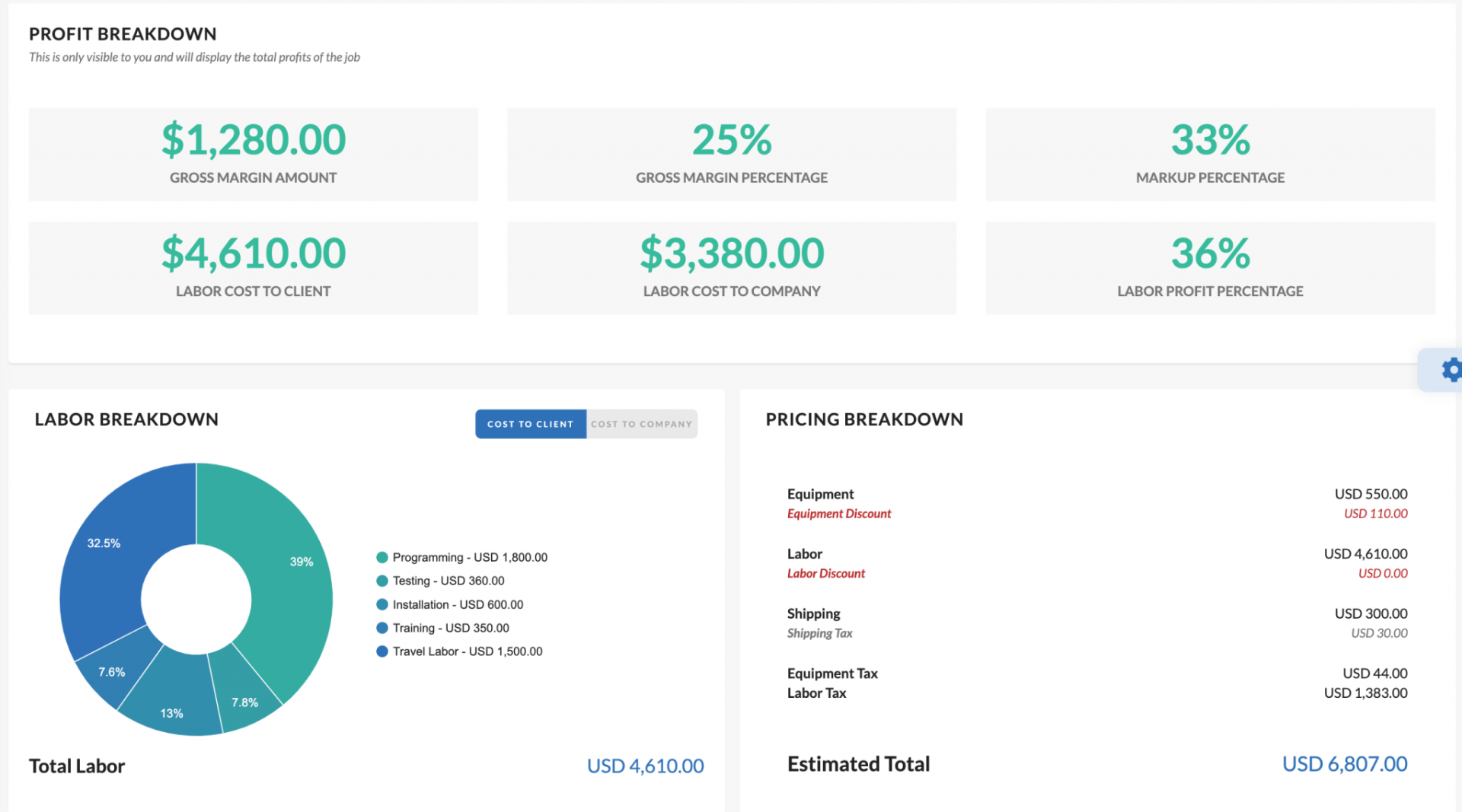 Speed
100+ proposal templates
Choose from an extensive library of 100+ proposal templates, designed to best present your project and accelerate your deal-closing process!
Here's why users worldwide love x.doc
"The XTEN-AV platform is truly groundbreaking. Never seen anything like it, the competitors don't even come anywhere close"
Jon Alessi
Ricoh Europe
"XTEN-AV and X-DRAW have significantly changed how our AV department works. It's all in one place!! Keep up the wonderful work!"
John Jones
Georgia Tech University
"I love using X-DRAW, it does everything I want it to do & much more. I really try to use it in as many applications of AV design as I can"
Dale Seabrook
Saskpoly tech
"I have found the AI aspect very helpful and very intuitive. I am making quotes in much less time with high levels of accuracy and flexibility."
Tim Kennard
Omega Broadcast
"I have enjoyed the past years using XTEN-AV. As an early adopter, I've seen it grow to the great tool that it is today!"
Peter Muylle
Ricoh Europe
"Amazing software with a lot of shortcuts, making it easy to organize projects and track expenses and profit"
Chad
Praxis
"It simplifies making drawings of AV, and the creation of the devices blocks that are not in the system is simple"
Stephen
Odongo PROAV-AFRICA
"Lots of potential with X-DRAW, very smart and responsive. Our standard drawings are getting easier to produce and quicker to review"
Zak Zeid
Ricoh-Europe
"X-DRAW has been a lifesaver for multiple applications and has made drawing plans, diagrams, and cable schedules much easier. I wish I would have found it sooner!"
Landry Wilkinson
Landry's Sound Design
"X-DRAW has been a lifesaver for multiple applications and has made drawing plans, diagrams, and cable schedules much easier. I wish I would have found it sooner!"
Landry Wilkinson
Landry's Sound Design
"X-DRAW, a saving grace!!!! Now not only we do integration in the physical work but now as a digital platform that puts every end of the design process together. Thankyou X-DRAW"
Kary Peterson
PETERSON AUDIO CONNECT
"Absolutely perfect for me, as my diagram tool. It is a very brilliant idea with the equipment database. It saves me a lot of time. I am very happy to be a X-DRAW user"
Thomas Petersen
1stav.dk
"The X-DRAW design tool helps a lot on completing complex AV designs and also helps to document the critical design details! Works like a charm!"
Imad Patwegar
Godrej
"The value that XTEN-AV brings to our company through their software application has improved Spinitar's efficiency in many areas; Proposal creation, Bill of Materials, Design, and CAD to name a few."
Jay Rogina
Spinitar
"Really enjoy working on it. It is easy to use and learn. Having the library at the ready is really cool. The company is also very hands on and willing to work with you to customize and/or learn from your usage."
Bartley Hass
SNAPONE
"I have been using XTEN-AV for over a year and have enjoyed the feature enhancements along the way. The synchronization between my Bill of Materials and design drawing makes my designing sessions super easy"
Gerald Irlinger
Video Connex
"XTEN-AV has completely changed the professional quality of a proposal presented to the client. We have landed accounts due to how impressive the proposals are and will continue to use this every day. A true winner!"
Tony Berarducci
Grise AV
"Looking to build project schematics with ease? Subscribe to the X-DRAW software. It's the best I have used."
Antony Okottah
Audio Visual engineering limited
"I believe XTEN-AV is the most comprehensive proposal tool on the market today"
Max Maxwell
SystemMax AVL
"Love the program, now only use X-DRAW but will convince everyone to use it companywide."
Marc van Halteren
Beleef AV
"The Killer App in the AV industry."
Craig Park
The Sextant Group
We help companies ditch legacy tools and upgrade them to offer an engaging experience with designs and proposals.